Hydraulic cylinder
– an important part in your machinery.
Melin & Carlsson is today one of Sweden's leading manufacturers of hydraulic cylinders. We supply hydraulic cylinders to hundreds of OEM customers in many different industries in Sweden as well as outside. The absolute majority of these are in close collaboration with our customers adapted to their products.
Whether it is a customer adapted cylinder or standard cylinder. Smartly managed, it can also improve your business.
Our knowledge is hydraulic cylinders and as a partner we at Melin & Carlsson can support in several ways!
Hydraulic cylinders from Melin & Carlsson – a good deal!


We manufacture hydraulic cylinders of all types and for all conceivable purposes. For over three decades, we at Melin & Carlsson have built up a wide knowledge and experience in the development and manufacturing of hydraulic cylinders that makes us an obvious partner and supplier.
Your hydraulic cylinder manufacturer
Since a hydraulic cylinder is a vital component in many products, your cylinder manufacturer should have a broad competence in many areas. It may be for vehicle builders, forestry or construction machinery, cleaning equipment, industrial applications, or something completely different. Wherever you are going to use your hydraulic cylinder, the chance is likely that we have experience of what is required of the product within your segment.
The right cylinder in the right place
Simply expressed, our job is to make sure that the right cylinders are in place when and where they are needed. Preferably batch packed in the correct order so that you avoid unnecessary handling before assembly. Maybe pre-assembled with valves or sensors so that you gain time in production – and thereby improve your competitiveness.
How many steps can we save you today?
Sometimes there are things that can be done more cost-effectively outside the house. If you are thinking of that idea, we will be happy to help you calculate the alternatives. This can be about painting or pre-assembling, for example, valves and sensors.
What you get is a "finished" product, adapted and dimensioned, ready to use directly into your production. Or in other words: simpler purchasing and more efficient logistics. Contact us! We are happy to discuss how we can deliver the smartest and most efficient hydraulic cylinder for your particular application.

R&D support
When your designers are developing, testing and verify new cylinder types, it is good to have experts to lean against. Our competent R&D team provide concrete support throughout the chain, from idea and design to delivery of finished product.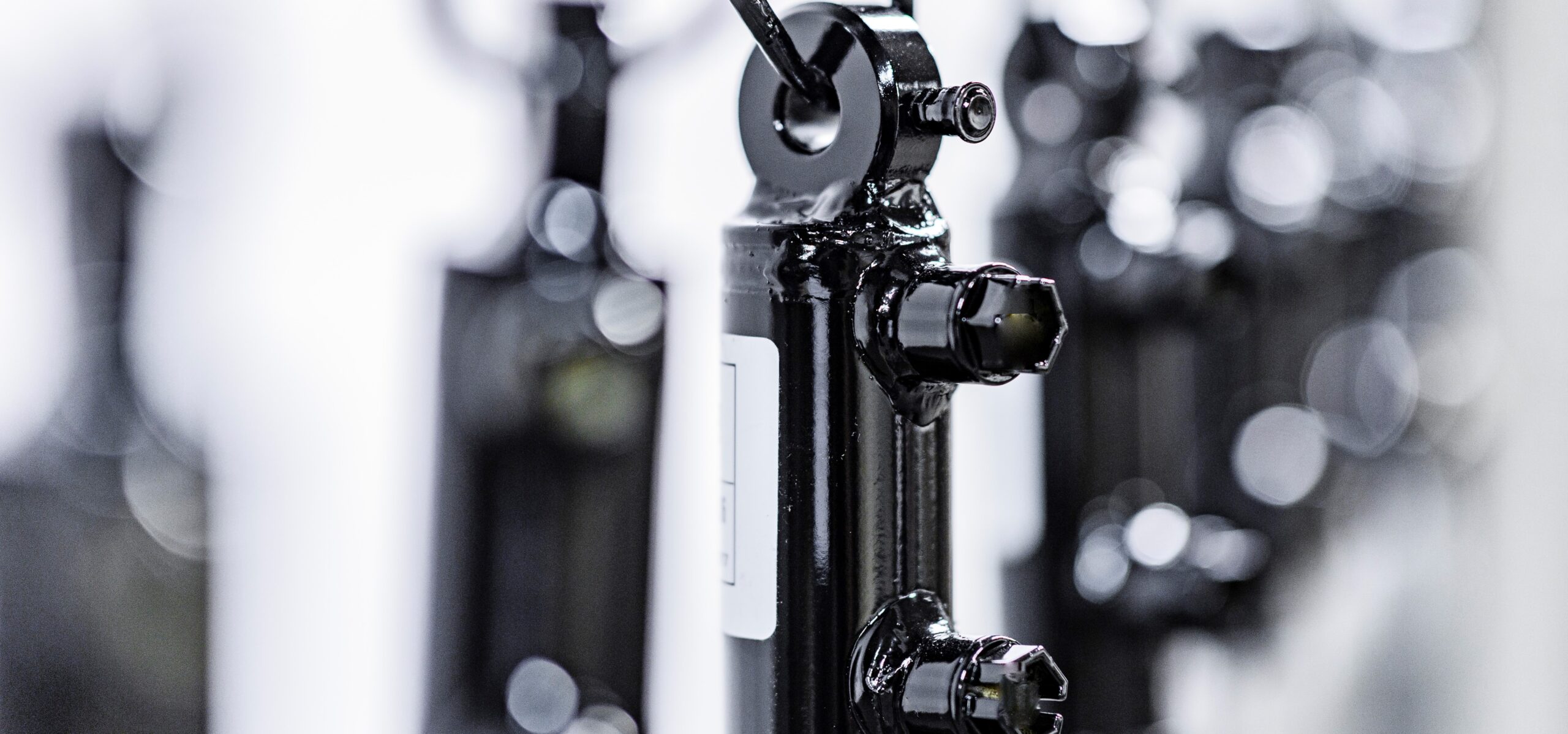 Customizations
Where should the cylinder be mounted? What function should it have? How intensively, and in what environment should it work? Based on the answers to the simple questions, we propose hydraulic cylinders – with regard to installation dimensions, working pressure, power, weather and corrosion requirements. It may be for vehicle buildings, construction machinery, cleaning equipment, industrial applications, or whatever you have in mind.
Often it's important to consider many aspects in the choice of both manufacturer and solution of your products. Just weighing the price and going for a cheap solution may not be the most affordable option. For us, it is important to provide a competitive product of high quality.
Contact us and we will discuss what needs of hydraulic cylinders you have!